Aries System III
Manufacturer:
Aries Music Inc., Salem MA

Model:
System III

Production period:
1979-80

Quantity produced:


Also:
- a double System III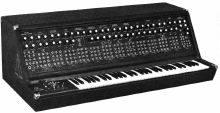 image courtesy of Kevin Lightner
The System III was Aries' ready-made modular synthesizer, with 14 pre-patched modules and a 61 note C-C keyboard. No patch cords were needed to play basic sounds, but there were over 200 patch sockets to create custom patches. It had voltage-controlled phasing and panning, a ring modulator, stereo reverb, external signal input.
[from The A-Z of Analogue Synthesizers, by Peter Forrest, published by Susurreal Publishing, Devon, England, copyright 1994 Peter Forrest]
The Aries III was the company's entry in the mid-sized performance synthesizer market. Obvious problems include the horizontal layout of the modules directly above the keyboard facilitating patch cords overhanging the keys, and the unwieldy size. (although the modules are suprisingly light)
At the same time, the Aries III is closer to being a complete studio system (with 8 / 16 event sequencer and very extensive modulation capacity) than either the ARP 2600 or the Moog 15, its closest competitors.
The Series III was only available factory assembled, and remains an honourable mention in the "great but flawed American synthesizer" sweepstakes. Synthesizer enthusiasts will recognize the Series III as the intriguing machine featured in the Aries ads that ran in the back of Keyboard magazine. (It was also the one instantly recognizable synth that no-one had ever seen in real life!)------ William Blakeney