Sideman
Manufacturer:
Wurlitzer

Model:
Sideman

Production period:
1959-65

Quantity produced: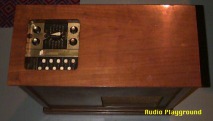 photos from the collection of Joseph Rivers, Audio Playground, Orlando, FL
other synths in the Audio Playground Collection
The Wurlitzer Side Man has the distinction of being the first drum machine ever made. Designed as an accessory to their organs, Wurlitzer made the Side Man in an all wood case and offered electronic representations of all of the popular drum patterns. It uses an all tube design; even the sound generating circuits are tube-based. It is driven by a small electronic motor. The motor turns a wheel, the outer rim of which is covered with rows of contact points. Each row of contact points triggers a particular drum sound, and each sound's points are spread, in their own row, around the wheel in a pattern that generates a certain rhythm. The faster the wheel spins, the faster the pattern plays. A slider adjusts the speed of the wheel. A knob selects one of 10 preset combinations of sounds to create patterns such as Tango, Fox Trot, Waltz, etc. One setting just produces a metronome click.

It is also possible to trigger each percussive sound, using the 10 white buttons. The Side Man can be controlled via its top panel. It also came with a hand-held remote switch that enables the player to control it while sitting at the organ.
When the Side Man appeared, the Musicians Association was concerned. It was rumored that they even approached Wurlitzer and pressured them to stop making the Side Man. Apparently they saw the writing on the wall and wanted to protect the jobs of drummers.
Tadashi Osanai - one of the original Korg founders
[Let us know if you have any further additions to this list.]