Davoli Instruments
Davolisint
Davolisint B (or Davolisint Mod 75)
Foxx
Sintacord
Tauonos


---


Davoli Davolisint
Manufacturer:
Davoli

Model:
Davolisint

Production period:
1972-75

Quantity produced: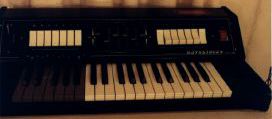 owner: Doug Ferguson, Ft. Worth, TX
used by the band "Ohm"

The Davolisint is a 2 VCO monophonic analog synthesizer with a 3-octave, 37-note (C-C) keyboard, with the bottom octave, colored dark grey, doubling as controller keys.

It features a coarse tune slider effecting both oscillators and a fine tune slider for Oscillator 2. Both Oscillators are also controlled by 7 octave switches (32', 16', 8', 4', 2', 1', 1/2') which are very similar to an organ, both in look and function. Any or all switches can be engaged simultaneously. LFO is fixed at a triangle/sine wave and has sliders for frequency and depth. Pitch bend is controlled by a lever labeled "extend". What's strange about this synth is that there is no control over the VCF or the envelope generator, however, there is portamento. The switches can also be accessed by the grey-colored lower octave of the keyboard. Every function is controlled by a different key.
Curiously, there is a 5-pin socket for a pedal on the back. It is unknown what this is for. Also interesting to note, it seems to have been marketed, at least in part, by MXR, whose label is badged on the top.
Matthias Becker - his first synth, Morgan Fisher of Love Affair, Dave Sinclair of Caravan - on "Girls Who Grow Plump in the Night", Sweet, Darryl Way's Wolf
[Let us know if you have any further additions to this list.]