EML Instruments
100
Electrocomp 101
Electrocomp 200
300 Controller
301 Controller
Electrocomp Sequencer (model 400 and model 401 expander)
Electrocomp 500
"Black Monster" (early modular synth for the educational market)
Polybox
SynKey 1500
Synkey 2001



---


EML SynKey 2001
Manufacturer:
Electronic Music Laboratories, Vernon, CT, USA

Model:
SynKey 2001

Production period:
1979-84

Quantity produced: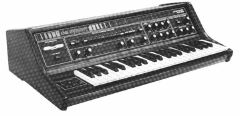 above image from a EML SynKey 2001 brochure courtesy of Kevin Lightner
The SynKey is a programmable polyphonic analog synthesizer with a 3 1/2-octave, 44-note (F-C) keyboard. It has a total of 13 oscillators. However, they are limited to square waves. The patches are saved onto punch-cards, meaning you have to punch the holes in a card and feed it into the card reader.