Buy the CD
in memoriam - max brand
---
To subscribe to our
monthly Newsletter.
enter Email Address:

Do you have a CD currently for sale which uses vintage electronic musical instruments?
Send it to:
Synthmuseum.com
399 School Street, #2
Watertown, MA 02472, USA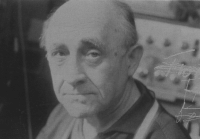 in memoriam - max brand
CD reviewed by Paula Chase
March 2001
in memoriam - max brand pays tribute to the Austrian composer Max Brand with a 2-disc set of original recordings of his work, as well as reworkings of original Brand material by various members of the new electronic scene of Vienna.
Born in 1896 in Austria, Brand studied composition with Franz Shreker. He was a contemporary of Shoenberg, Berg and Weill and his early works were influenced by Schoenberg and his circle.
Only one of Brand's works had any popular success, and that was "Hopkins The Machinist," an opera utilizing such diverse elements as machine sounds and jazz.
As a Communist sympathizer and a Jew, he was forced to leave Austria in 193, and relocated to Prague, Switzerland, Paris and Brazil. while in South America, Brand made a fruitful collaboration with Heitor Villa-Lobos, but then moved on to New York. In his successive moves from city to city, much of his early work was lost.
In 1959, Bob Moog built for Brand special modules which would become the prototype for the Moog line.
Of the compositions he created from the 1950's in New York until his death in 1980, back in Austria, none had any popular success, and few are available today.
The reworked Brand compositions on in memoriam - max brand were created by Pulsinger/Tunakan, Radian, Fritz Ostermayer, Epy, Pita, Dorninger/Androsch, Alois Huber, Curd Duca, Fon, Quehenberger-Kollreider, ElmpŸ, Musikkreis MS 20 and Pure.
disc 1: max brand

brandschaden - eine verdichtung (dieter kaufmann)
max brand konzentrat (curd duca)
text 1
notturno brasiliero
french folk song: au claire de la lune
french folk song: crocodile
french folk song: mlle
french folk song: corbleu marion
french folk song: il était une bergère
stormy sea
text 2
walzer 1
walzer 2
fragment 1
fragment 2
fragment 3
fragment 4
fragment5
commercial 1
commercial 2
commercial 3
rhinoceros: cortage for a cat
text 3

disc 2: in memoriam

max brennt (patrick pulsinger/erdem tunakan)
fragment (radian)
false frequencies for a fake funeral (fritz ostermayer)
hannah (epy)
pita "brand new" (pita)
french folk song 1 (peter androsch/wolfgang dorninger)
french folk song 3 (dorninger/androsch)
french folk song 5 (dorninger/androsch)
french folk song 2 (dorninger/androsch)
french folk song 4 (dorninger/androsch)
xeto (alois huber
tape suite (curd duca)
west&335; (fon)
exit (philipp quehenberger/peter kollreider)
das milleniumsproblem (elmü)
au claire de la lune (musikkreis ms20)
brand2.1mixtrunc2 (pure)