Sequential Circuits Instruments
Drumtraks
Fugue
Max
Multi-Trak
Model 800
(Sequencer)
Prelude
Pro-8
PRO-FX
Pro-One
Prophet-5
Prophet-10
Prophet-600
Prophet-2000
Prophet-3000
Prophet-T8
Prophet-VS
Remote
(remote controller keyboard for the Prophet-5)
Six-Trak
Split-8
Studio 440
Tom


---


Drumtraks
Manufacturer:
Sequential

Model:
Drumtraks (Model 400)

Production period:


Quantity produced: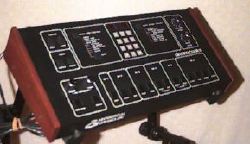 above photo from the collection of Joseph Rivers, Audio Playground, Orlando, FL
other synths in the Audio Playground Collection
The Sequential Drumtraks is an 8-bit sample-based drum machine. The samples were stored in EPROM (Erasable Programmable Read-Only Memories) chips, like the Oberheim DMX. It was possible, if you had a machine to "burn" the EPROMs (such as the Oberheim Prommer), to program your own EPROMs, and, therefore, to use your own samples. Sequential Circuits also sold replacement EPROM soundchips that they had sampled onto. What was unique about the Drumtraks was that for every beat each sample could be programmed to play a different velocity and a different pitch.
Gary Numan, Orbital
[Let us know if you have any further additions to this list.]