Yamaha Instruments
CE-20
CS-01
CS-05
CS-10
CS-15
CS-15D
CS-20M
CS-30
CS-30L
CS-40M
CS-50
CS-60
CS-70M
CS-80
CX5M
DSR1000
DX1
DX5
DX7
DX7IID
DX7S
DX9
DX11
DX21
DX100
EMT1
EMT10
FBO1
GS1
GS2
GX-1
MK100
PDP40
PDP100
PSR6
PSR16
PSR21
PSR36
PSR50
PSR70
PSR6100
PSR6300
SK10
SK15
SK20
SK30
SK50D
SS30
SY1
SY2
TQ5
TX1P
TX7
TX16W
TX802
TX816
TX81Z
V50


---


The New England Synthesizer Museum's CS-01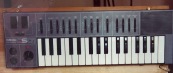 above photo from the collection of The New England Synthesizer Museum, David Hillel Wilson, Curator
other synths in the New England Synthesizer Museum
Also: Yamaha CS-01 (red with grey lettering), Yamaha CS-01 II (black with green lettering)
In the early days of Casio synths with their tiny keys and their fair to poor imitations of acoustic instruments, I used to wish that someone would make a little hand held machine that had the traditional waveform switches and a real ADSR. I never saw one of these until long after they came out, were sold, and then discontinued. This is sad, because I would have loved one to complement my PAiA 2720/A.
A real synthesizer in a Casio style package, the CS-01 had a VCO with triangle, sawtooth, square, and pulse waves, the latter with its own dedicated PWM LFO. The octave footings available were 4', 8', 16', 32', or white noise, the latter disabling the VCO altogether. Instead of glide, it gives glissando, where it plays every individual note between the previous note and the one just pressed, but without hitting the pitches between the semitones.
The VCF is a low pass with resonance. The VCF controls include fc, Resonance, and Envelope Depth, just like on a real synthesizer! Early versions of this just had a "low/high" switch for resonance, while later models (CS01-II, I think) had a real resonance control.
The VCA has an envelope depth control, which is more controls on the VCA than many other synthesizers have, including the famous Minimoog! Finally, the controls are rounded out by a full Attack-Decay-Sustain-Release envelope generator, again, just like on a real synthesizer. ------ Dave Wilson
Back to main CS-1 page