Yamaha Instruments
CE-20
CS-01
CS-05
CS-10
CS-15
CS-15D
CS-20M
CS-30
CS-30L
CS-40M
CS-50
CS-60
CS-70M
CS-80
CX5M
DSR1000
DX1
DX5
DX7
DX7IID
DX7S
DX9
DX11
DX21
DX100
EMT1
EMT10
FBO1
GS1
GS2
GX-1
MK100
PDP40
PDP100
PSR6
PSR16
PSR21
PSR36
PSR50
PSR70
PSR6100
PSR6300
SK10
SK15
SK20
SK30
SK50D
SS30
SY1
SY2
TQ5
TX1P
TX7
TX16W
TX802
TX816
TX81Z
V50


---


CS-5
Manufacturer:
Yamaha

Model:
CS-5

Production period:
1979-83

Quantity produced:




Also:
- Daniele Marziali's CS-5,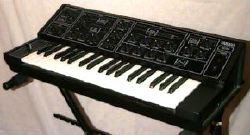 above photo from the collection of Joseph Rivers, Audio Playground, Orlando, FL
other synths in the Audio Playground Collection
The CS-05 is a single oscillator monophonic synthesizer with a 3 octave, 37-note (C-C) keyboard. the voice architecture consists of a single VCO, a VCF, a LFO, and a simple envelope generator. The VCO (Voltage Controlled Oscillator) has sliders controlling the level of it's two waveforms, sawtooth, and pulse. The pulse width can be modulated by the LFO (Low Frequency Oscillator). The LFO features a sample-and-hold setting and can modulate up into the audio range for FM sounds. There is an input and a trigger circuit which allows you to trigger a sound via an external audio signal.
Dave Ball of Soft Cell, Electronic Dream Planet, Pascal Gabriel, Martin Gore of Depeche Mode, The Grid, Groove Corporation, Human League, Willard E. Love, Masterworks, Mike Montgomery
[Let us know if you have any further additions to this list.]