Buchla 100 Modular Synthesizer
Manufacturer:
Buchla

Model:
100 Modular Synthesizer

Production period:
1963-69

Quantity produced:




Also:
- The New England Synthesizer Museum's Buchla 112 touch keyboard
- Buchla 100 modules
- a list of available modules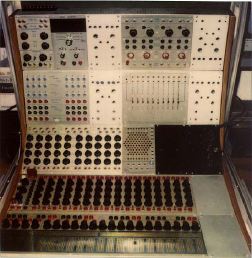 a large Buchla modular system (not all 100 series) image courtesy of Kevin Lightner. Check out a complete list of available modules in the 100 series system.
Buchla called it the "San Fransisco Tape Music Center", the name of the musique concrète center that Morton Subotnick and Ramon Sender had founded. Sender and Subotnick, who (with a grant from the Rockefeller Foundation) commissioned the synth and called it the "Buchla" or "Buchla Box".
The original Buchlas did not have a keyboard (at least one that we would recognize). "The input devices were an important aspect to that system," Buchla explains. "They were all capacitance-sensitive touch-plates, or resistance-sensitive in some cases, organized in various sorts of arrays."
"[Morton] Subotnick explains the touch-plates further: 'They were pressure-sensitive. One had 12 keys and you could tune it straight across the board. [see The New England Synthesizer Museum's Buchla 112 touch keyboard] You could get a chromatic scale if you chose to. It had three control voltages per position. The other one had ten keys and one output per key. We often used this one to control the amplitude of concrète tapes during playback. You could literally play ten loops with your fingers.'
"One aspect shared by early analog synths was the instability of certain components, most obviously demonstrated by pitch drift in the oscillators. Some synths were more stable than others. The question was, what did the manufacturer consider a tolerable amount of pitch drift? 'We felt that it was more important for the Buchla synth to have lots of things that were slightly less stable than to have it be so expensive you could only afford a few modules,' says Subotnick. 'As I recall, the determination of how long the oscillators would stay in tune was how long a violin stayed in tune in a concert. I figured if you had to retune a violin halfway through, why not an oscillator?'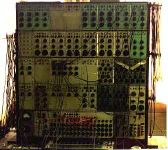 image courtesy of Kevin Lightner
"Three sequencers were fit into the first Buchla synth, two with eight stages, the third with 16. Morton Subotnick explains how they worked and the importance of having more than one: 'There were three voltage-controlled outputs for each stage. I used to cascade two sequencers so that they would run simultaneously, giving you six voltages per stage. One voltage would control pitch, another spatial location, the third amplitude. Then one, which was really clever, would control the pulse generator that was controlling the sequencer, so that you could determine the absolute rhythm. You could literally program a very complex rhythm over a long period of time, for example, by running five stages against 13.'"
[excerpted with permission from the book Vintage Synthesizers by Mark Vail, copyright Miller Freeman, Inc]
Wendy Carlos, Suzanne Ciani, Center for Contemporary Music - Mills College, Oakland, California, USA, David Rosenboom, John Hassell, San Francisco Tape Music Center, Robert-Schumann-Institute, Dusseldorf, Morton Subotnick - "Silver Apples of the Moon" 1967
[Let us know if you have any further additions to this list.]