Elektor Instruments
Chorosynth
Formant


---


Elektor Formant
Manufacturer:
Elektor

Model:
Elektor Formant Modular

Production period:
1979-

Quantity produced: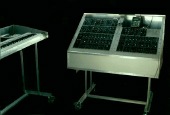 instrument from the collection of Rick Jansen
"The Elector Formant modular synthesizer was designed by C. Chapman. The Formant was published in a series of articles in Elektor (in The Netherlands, Elektuur), and later as a book with a compilation of the articles. A year later there was another book with additions and extensions by M. Aigner, an Austrian. In those days I was still a student, and didn't have the time or money for the project. So I shelved it, till a later date when I would have both time and money at the same moment. This rare combination of factors occurred in October '92, triggering the project from hibernation.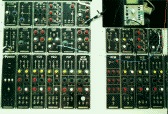 "The Formant is a conventional Moog-style synthesizer, voltage-controlled with a 1V/octave characteristic. It consists of separate modules, which I mounted in a rack. Each module is a printed circuit board with a front.
"The original book describes the keyboard and interface, power supply, VCO, VCF, LFO (consists of 3 LFOs), Noise, ADSR, VCA, COM (output module), RFM (Resonance Filter Module) and a 24dB VCF. The book by by M. Aigner contains things like Ring Modulator, Envelope Follower, Mixer, Phase Shifter, ADSR Controller, VC-LFO's, Sample and Hold, and a few more. I'll briefly describe the modules here, and how building the Formant went.
The Modules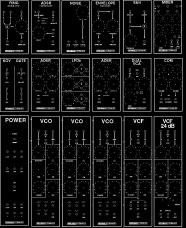 Keyboard interface
The keyboard is made with double switches, one switching a resistance ladder, the other the gate signal.
inputs: frequency modulation
controls: portamento, octaves coarse and fine
VCO
The VCO generates sine, triangle, square, sawtooth and spaced sawtooth waves. The pulse width of the square is adjustable, and even modulatable (PWM).
inputs: frequency modulation, external control voltage, pulse width modulation. A LED indicates the pulse width.
dials for octaves coarse and fine, output level, pulse width, pulse width modulation and frequency modulation.
Switches to select each waveform (you can have sine and square at the same time, the signals are simply added together).
External control voltage/keyboard voltage selector.
VCF
The VCF is a 12dB/octave voltage controlled filter. You can configure the filter as Low Pass, High Pass, Band Pass or as a notch filter. Quite versatile really.
inputs: Timbre Modulation, external control voltage, external signal.
dials for timbre modulation, external signal level, envelope, octaves, Q (resonance) and output level.
Switches to select HP, BP, LP and Notch filter function.
ADSR
The ADSR generates the envelope signals for the VCA and the VCF. Normally you will have two ADSRs in a system, one for the VCA, and the other for the VCF(s).
dials for Attack, Decay, Sustain and Release.
switch to select AD or ADSR envelope
LED indicator showing the envelope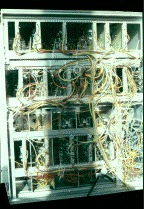 VCA
The VCA has the following controls:
inputs for amplitude modulation and external signal.
dials for AM depth, ES level and Gain.
Switch for ENV/Off (Off means no ENV control).
LED to view the input signal level.
LFO
The LFO module consists of 3 LFOs. LFO 1 and 2 are identical, generating square, triangle and sawtooth ( /|/| ) waves. LFO 3 is different, in that it generates triangle and two sawtooths, one being the inverse of the other. ( /|/| and |\|\ ). Each LFO has a dial for the frequency, and a LED that shows the triangular wave amplitude.
Noise
The noise module generates white noise, coloured noise and a random voltage. The 'speed' of the random voltage is adjustable with a dial and indicated with a LED.
COM
The Control and Output Module outputs the Formant signal, there are dials for tone control (Bass, Mid, Treble) and Output level. You can connect a headphone or external amp to this module. (All outputs of the Formant you can connect a headphone to.)
24dB VCF
It is basically like the VCF, but 24dB/oct.
inputs: Timbre Modulation (TM), ECV, External Signal (ES).
dials for TM, ES level, Envelope (ENV), Octaves, Q (resonance) and output level.
Switch to select HP/LP, a switch to select VCO's/ES.
A dB/Oct selector: 6, 12, 18, 24 dB/oct.
RFM
The Resonance Filter Module is used to mimic existing instruments more naturally, or just as some filter. Another name for an RFM is a 'parametric equalizer'. This is not a voltage controlled filter. The Formant RFM consists of 3 filters in parallel. Each filter has three dials for frequency, Q and A."-----Rick Jansen
[Excerpted from Rick Jansen's website.]
For more information on finding parts and building your own Elektor Formant Modular Synthesizer see Rick Jansen's website.