Moog Instruments
CDX(Moog Organ by Cordovox)
Liberation
Memorymoog
Micromoog
Minimoog
Minitmoog
Modular Moogs
Multimoog
Musonics Sonic V
Opus-3
Polymoog
Polymoog Keyboard
Prodigy
Concertmate MG-1 (Radio Shack)
Rogue
Sanctuary
Satellite
Sonic Six
Source
Taurus


---


Minimoog
Manufacturer:
Moog

Model:
Minimoog

Production period:
1970-81

Quantity produced:
over 12,000



Also:
- Joe Paradiso's Abstracted Minimoog
- Till Kopper's Minimoog
- Brian Kehew's Minimoog
- Minimoog brochure courtesy of Kevin Lightner
- Another Minimoog brochure courtesy of Kevin Lightner
- Brad Coates article The Minimoog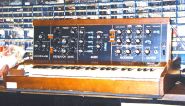 above photo courtesy of William Blakeney. The synthesizer was used at the famous Grant Avenue Studios during the period that Brian Eno was producing the Apollo Soundtracks and appears in some of those recordings.
"Back in 1969 and '70, Moog Music was not yet in the musical instrument business per se. Our modular synthesizers were sold as pieces of professional audio equipment. They were made to order, and we considered them to be too complex and high-tech to survive on the floor of a musical instrument store. Our original concept for the Minimoog was to take some of the basic features of our modular instruments and integrate them into a compact performance synthesizer that could be programmed without patch cords. We imagined that Minimoog customers would consist primarily of studio musicians who wanted a cut-down version of a Moog modular system to take on their gigs.... We figured that we might sell as many as a hundred Minis before it would be time to update the design.
"We had no idea of what a small portable synthesizer should look like, so we asked our industrial engineers for some suggestions. They came up with drawings for some very sleek packages indeed -- white sculptured plastic cabinets that suggested computer terminals, gleaming multi-colored panels, and strikingly-shaped controls. We then polled our musician friends to see which designs they liked. We were in for a surprise! Nearly everybody shot down the sculptured plastic in favor of natural wood and simple lines. We simplified one of our designer's concepts to the point where we could actually make the cabinets in our own modest wood shop, then proceeded to create the Minimoog.
"The only Minimoog that was put into production is called Model D.... We adapted some of the circuitry (such as the filter section) from the modular instruments, but designed other circuitry (such as the oscillators and contour generators) from scratch. In fact, Moog's first temperature-compensated oscillators were designed for the Minimoog.
"...We exhibited the Minimoog at the National Association of Music Merchants convention in June, 1971. It was our first exposure to the music instruments industry - and the industry's first exposure to synthesizers. [Moog's previous synthesizers, the modulars, were marketed to recording studios, audio engineers and schools.] We did not experience a warm reception. Most dealers didn't know what to make of a musical instrument with words like Oscillator Bank and Filter printed on the front panel." ----Bob Moog
[excerpted with permission from the book Vintage Synthesizers by Mark Vail, copyright Miller Freeman, Inc]
"The Mini-Moog featured three voltage-controlled oscillators, a mixer, noise source, VCA and a warm resonant filter which could be controlled with a dedicated EG called a 'Contour Generator'. The Mini also had an external input which allowed external signals to be processed through the filter, as well as a voltage controlled 'S-Trigger' jack which allowed the Mini to be hooked up to a ribbon controller, sample-and-hold or percussion (drum) controller.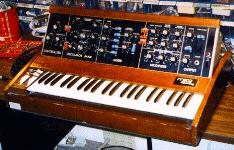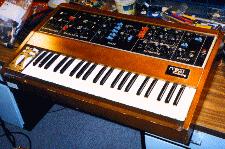 The Mini-Moog with control panel "up" (left) and "down" (right)
images courtesy of William Blakeney
"The Mini's control panel could be raised or lowered for ease of use as shown... Most innovative were the wheel-controlled pitch and modulation controller mounted on the left side of the [44-note (F-C)] keyboard, allowing for pitch bend and variation in modulation or vibrato depth."----William Blakeney
808 State, Ancient Monsters, Benny Anderson of Abba, Don Airey - modified by Moog for footpedal cross-modulation, Apollo 440 - on previously used by keith Emerson, Rod Argent, Peter Bardens, The Beloved - for basslines, Lassigue Bendthaus, Tim Blake - for Jerusalem, Michael Boddicker, Bronski Beat, The Boards of Canada, Bob Casale of Devo, Vince Clarke, Billy Cobham, Coldcut, Chick Corea - with aftertouch modification, Steve Cunningham, Dr. Dan of Col. Bruce Hampton and the Figi Mariners, Thomas Dolby, Neil Doughty of REO Speedwagon - on Ridin' The Storm Out, Geoff Downes, George Duke - encased in plexiglass lit up and slingable, Kris of Dweeb, Depeche Mode, Electronic Dream Planet, Jean Michel Jarre, Kraftwerk, Keith Emerson, The Enid - had two of them, Everything But the Girl, Tommy Eyre, Larry Fast, Baby Ford, Front Line Assembly, Lowell George, Dave Greenfield, Manuel Goettsching, Jan Hammer - the Minimoog was part of the secret of his famous guitar sound (as used on his albums and for scores for the TV shows such as "Miami Vice", Herbie Hancock - plus a 'Waves' modified Minimoog, Paul Hardcastle, Heatwave - on "Boogie Nights", Steve Hillage - his was customised by Graham Wood, Robert Hoffman on Michael Jackson's HIStory, Hammy Howell of the Darts, Michel Huygen of Neuronium, Tony Hymas of Ph.D., Incognito, Irakerre, J.J. Jeczalik, Mark Jenkins, Eddie Jobson of UK and on his "Green Album", Howard Jones, Raymond Jones of Chic - played it via a remote keyboard, Brian Kehew and Roger Manning of The Moog Cookbook, Kraftwerk - on "Neon Lights", Die Krupps, Jean-Michel Jarre, Geddy Lee of Rush, Howard Leese of Heart, Level 42, Steve Levine, Ian Lynn, Jon Lord, Magma, Nick Magnus with Steve Hackett, Manfred Mann, Mark Kelly of Marillion, Linda McCartney, Hugh McKenna of SAHB, John McLaughlin - he used 6 Minimoogs driven by a 360 Systems guitar synth, Jason Miles, Patrick Moraz both solo and on Yes's Relayer LP, Rene Moore, Gary Moore, Bill Nelson - played one via a Hagstrom Patch 2000 guitar, Gary Numan, The Orb, David Paich, Bill Payne, Pere Ubu, Greg Phillinganes - including playing the Minimoog above his head, Steve Porcaro, Don Preston - with the Mothers of Invention and with John Lennon (Sometime in New York City), The Prodigy, Pulp, Sun Ra, Toni Carey of Rainbow, Paul Raymond of UFO, Trent Reznor of Nine Inch Nails, Andy Richards, Scott Ryser of the Units, David Sams with Bill Sharpe, Peter Sears of Jefferson Starship, Klaus Schulze, Sci-fi Steven of Bis, The Shamen, Tim Souster, Starbuck - toured nationally in 1976 supporting their mega-hit "Moonlight Feels Right" and had SIX!!! minimoogs on stage to reproduce the overdubbed, stacked Moog chords on the record, Startled Insects, Stereolab, Dave (Egg) Stewart, Tangerine Dream, Roger Troutman - with a voice-box, Ian Underwood, Ultravox, Uriah Heep, Visage, Vangelis, Paul Ward, Rick Wakeman, Chuck Wilde of Missing Persons, Curtis Williams of Kool and the Gang, Steve Winwood - including basslines on "Roll With It", Bernie Worrell, Gary Wright - split, Rick Wright of Pink Floyd - on "Animals", Youth
[Let us know if you have any further additions to this list.]