ARP 2500
Manufacturer:
ARP

Model:
2500

Production period:
1970-81

Quantity produced:




Also:
- another ARP 2500
- the ARP 2500 brochure (courtesy of Kevin Lightner)
- ARP 2500 modules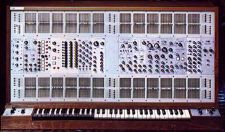 image courtesy of Kevin Lightner

image courtesy of Atmosfear

"Unveiled in 1970 under the name, Tonus, Inc.," this was ARP's first synthesizer. Modular in design, it uses [color-coded] sliders for patching, doing away with other modulars' messy cords. However, the sliders introduced problems with cross-talk. [Where patch cords are necessary, and they are for some things, the 2600 uses mini-jacks, not 1/4-inch] It was available in custom configurations.
"Along with Philip Dodds [ARP vice-president of engineering], the 2500 made a cameo appearance in Close Encounters of the Third Kind (1977,1980), where it helped man communicate with the visitors from outer space through music and mathematics."
[excerpted with permission from the book Vintage Synthesizers by Mark Vail, copyright Miller Freeman, Inc]
The 2600 is part of ARP's "2000 series" modular system which is confusing when you consider that the modules were numbered in the 1000's.
Wendy Carlos, Vince Clark, David Hentschel - Genesis producer, J.M. Jarre, Hugo Montenegro, Guido Mylemans, Roger Powel, Gerald Shapiro, Skinny Puppy, Pete Townsend, There is also a 2500 rumored to be stored at the London Science Museum
[Let us know if you have any further additions to this list.]