ARP Instruments
16-Voice Electric Piano
4-Voice Electric Piano
2500
2600
Avatar
Axxe
Centaur
Explorer 1
Little Brother
MSL (Educational keyboard)
Odyssey
Omni-2
Pro/DGX
Pro Soloist
Quadra
Quartet
CBS/Rhodes Chroma
Sequencer
Solina String Ensemble
Solina String Synthesizer
Solus


---


ARP Solus
Manufacturer:
ARP

Model:
Solus

Production period:
1980-81

Quantity produced: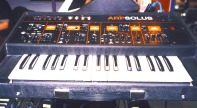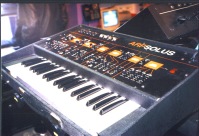 owner: William Blakeney
The Solus is a 2 VCO, monophonic analog synthesizer with a 3-octave, 37-note (C-C) keyboard. It, like most ARP synths, features mostly sliders instead of knobs. It was built into a flight-case, with all of its inputs and outputs on the inside of the case lid.
Both VCO's feature a slider selecting variable waveforms from sawtooth to pulse, as well as a slider controlling pulse-width and the amount of pulse-width modulation. VCO2 is syncable to VCO1 and can be detuned. The pulse-width can be modulated by the LFO or the ADSR. The VCF (four-pole, lowpass filter) has controls for frequency, resonance, as well as three sliders controlling modulation amount from the keyboard, the LFO, and the ADSR. It also features a digital ring-modulator and a pitch-bend knob. The back panel features interfaces (in and out) for CV, Gate, and Trig. Also in the back is a footpedal input and External Audio input, as well as high and low outputs.
[Let us know if you have any further additions to this list.]