PPG Instruments
100 Modular
200 Modular
300 Modular Synthesizer
The 340/380 System: The 340 Wave Computer and 380 Event Generator
Computer Sequencer 350
Wave Computer 360
1002
1020
Expansion Voice Unit
Hard Disk Unit
Processor Keyboard PRK
Realizer
Wave
Waveterm



---


Modular Synthesizer 300
Manufacturer:
Palm Productions GmbH, Germany

Model:
Modular Synthesizer 300

Production period:
1975-80

Quantity produced: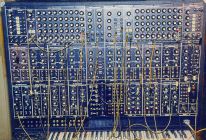 image courtesy of Georg Müller, instrument owned by Rüdiger Lorenz
Description of above instrument
First Row:
313 Sequential Switch, 314 Clocked Sequential Control, 310 Random Voltage Generator, 309 Signal Mixer, 314 Clocked Sequential Control, 313 Sequential Switch
Second Row:
301 Voltage Controlled Oscillator (4 times), 309 Signal Mixer, 301 Voltage Controlled Oscillator (4 times), 309 Signal Mixer
Third Row:
305 Low Frequency Oscillator, 317 Voltage Controlled Filter, 307 Dual Envelope Generator, 315 Dual Analog Multiplier, (VCF-ENV/FBY02) not PPG, (LFO'S AND PITCH VOLTAGES) not PPG, 308 Dual Envelope Generator (2 times), 303 Voltage Controlled Modifier, 311 Power Supply 322 Duophonic Digital Keyboard
"As with most of the relative handful of synth pioneers, [Wolfgang] Palm's quest began small, and slowly snowballed. 'In the early '70s, I was playing organ in a small band in Hamburg,' Palm recalls. 'It started when I first heard Emerson, Lake & Palmer's 'Lucky Man' on the radio. I listened to the portamento sound, the glide effect, and I thought, 'How do they do that?' Nobody in Germany had a synthesizer at that time. So I built my own VCO's and connected them to my organ keyboard. I made some crazy things, including simple sequencers. After some time, I became known to somebody who owned a Minimoog, I became more familiar with the idea of voltage control of oscillators, filters, and amplifiers. Gradually, I made my own modular system. Then I built some special keyboards for the guy who handled Moog's distribution in Germany. He had customers who wanted duo- and quadraphonic keyboards. That led to my association with the members of Tangerine Dream, particularly Chris Franke and Edgar Froese. They had a great interest in new instruments and getting their Moog and ARP synths modified. So they invested a lot of money and time and ideas, and helped me start my business - building analog synthesizers.'"
[excerpted with permission from the book Vintage Synthesizers by Mark Vail, copyright Miller Freeman, Inc]