Expansion Voice Unit
Manufacturer:
Palm Productions GmbH, Germany

Model:
Expansion Voice Unit

Production period:


Quantity produced: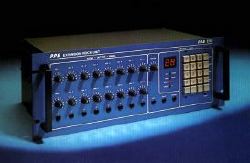 image courtesy of Kevin Lightner
The PPG EVU is basically a rackmount Wave 2.3 with no keyboard, LCD display, or analog control panel. As it's name suggests it is an expander to be used in conjunction with a Wave synthesizer or Waveterm computer. The EVU is an 8 channel module. Each channel has it's own volume and pan controls plus an individual output. The unit also features a master volume control plus left and right master outputs.
The multi-function LCD display of the Wave is replaced in the EVU with a large two-digit LED display. Similarly, the separate numeric and function keypads of the Wave are condensed into a 20-key keypad in the EVU. MIDI and cassette interface jacks are positioned on the rear panel of the unit.
The EVU was designed to be able to load 8 different samples or wavetables into memory, and therefore to be multitimbral. This was a big development before the Wave 2.3, being that the 2.2 could only hold one sample or wavetable in memory at any one time. Eventually the advantages of the EVU were added to the 2.3, making them essentially the same in most respects.
Originally the only way to communicate with an EVU was through PPG's proprietary Communication Buss. Later, when MIDI was added to the operating system, the EVU could be used in a more stand-alone fashion. In fact, with EVU software version 3.0, system exclusive commands were added. This allowed more complete control via MIDI.
[excerpted with permission from the PPG page atAntarctica Media courtesy of John A Trevethan]