Hard Disk Unit (HDU)
Manufacturer:
Palm Productions GmbH, Germany

Model:
Hard Disk Unit (HDU)

Production period:
1986-87

Quantity produced: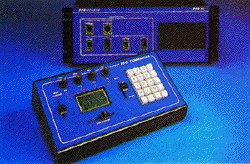 image courtesy of Kevin Lightner
The HDU was a portable hard disk recorder that was nearly a decade ahead of it's time. Below is an excerpt from a full-page ad that ran in the June 1986 issue of Keyboard Magazine (the photo above is from the ad as well):
'What you see here is nothing compared to what you will hear with this incredible achievement: the PPG Hard Disk Unit. It represents a revolutionary new concept and possibilities in Digital Sound and Music Arrangement ever offered. The HDU offers the best features for everything from recording entire vocal tracks to complete instrumental arrangements, for audio, film and video production. 12 minute sampling capabilities with 16-bit CD-quality playback, divided as you require, synchronized to any MIDI device. The playback of sampled material can be Time-Corrected: this means that the sample's playback speed is independant of pitch. The truly special feature of the HDU is Realtime Audio processing. This allows you to use any of several internal Digital Effects on the sampled recordings, such as Echo, Delay, Flanging, Phasing and Harmonization, without having to use any external effects. Also, Digital Editing and Crossfading is possible without having to go to tape. A Control Unit with a large LCD display allows for easy handling and storage of the HDU."
Later, in the September issue of Keyboard, Dave Frederick wrote an article on the 1986 summer NAMM show stating:
"PPG presented the Hard Disk Unit (HDU) ($16,200), which employs direct-to-disk sampling on a Winchester 10 Meg hard disk to allow you 12 minutes of sampling with 16-bit resolution and a 44.1kHz sampling rate. Samples may be overdubbed, mixed, edited, filtered, and processed, all from the HDU's remote control device with built-in LCD."
A photo accompanying the article described the control unit as the "Commander".
[excerpted with permission from the PPG pages at Antarctica Media courtesy of John A Trevethan]