Roland Instruments
Alpha-Juno 1
Alpha-Juno 2
Boss DR-55
Boss DR-110
Boss DR-660
CM-32L
CMU-800 CompuMusic
CMU-810
CR-68
CR-78
CSQ-100
CSQ-600
D-5
D-10
D-20
D-50
D-110
E-20
EM-101
GR-300
HS-10
JSQ Sequencers
Juno-6
Juno-60
Juno 106
Jupiter-4
Jupiter-6
Jupiter-8
JX-3P
JX-8P
JX-10 (Super JX)
MC-4
MC-8
MC-202 MicroComposer
MKS-7 Super Quartet
MKS-10 Planet-P
MKS-30 Planet-S
MKS-50
MKS-70 Super JX
MKS-80 Super Jupiter
MKS-100
MSQ-100 Sequencer
MSQ-700 Sequencer
MT-32
PG-200
PG-300
PG-800
Pro-Mars (MRS-2)
RS-09
RS-101
RS-202
RS-505 Paraphonic
S-5
S-10
S-330
S-550
Saturn 09 (SA-09)
SH-1
SH-2
SH-3
SH-5
SH-7
SH-09
SH-101
SH-1000
SH-2000
SPV-355
System 100
System 100m
System 700
TR-66
TB-303
TR-505
TR-606
TR-626
TR-707
TR-727
TR-808
TR-909
U-110
VP-330 Vocoder Plus



---


CR-78
Manufacturer:
Roland

Model:
CR-78 Compurhythm

Production period:


Quantity produced:




Also:
- A CR-78 ad courtesy of the archives at - - Hyperreal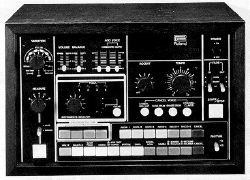 image courtesy of Hyperreal
The CR-78 is one of Rolands first drum machines in the COMPURHYTHM series. It features 34 different preset rhythms (17 buttons, plus a toggle switch choosing from bank A and B). There is also a knob to select between 11 different "variations", as well as controls for fade-in, fade-out, volume, tempo (with an LED that flashes the tempo), balance and accent. The pattern is started and stopped by a single dual-function button. In addition to preset patterns, the CR-78 is equipped with a "programmable microcomputer to create your own beats". There is also a trigger out for synchronizing synthesizers and sequencers, and an optional WS-1 remote control switch.
Presets are Rock 1 A/B, Rock 2 A/B, Rock 3 A/B, Rock 4 A/B, Rock 5 A/B, Rock 6 A/B, Disco 1 A/B, Disco 2 A/B, Bossanova A/B, Samba A/B, Mambo, Chacha, Beguine, Rhumba, Waltz A/B, Shuffle A/B, Slow Rock A/B, Swing A/B, Fox Trot, and Tango.
Rhythms are combinations of the following available voices/sounds: Bass Drum, Snare Drum, Rim Shot, Hi-hat, Cymbal, Maracas, Claves, Cow Bell, High Bongo, Low Bongo, Low Conga, Metal Beat, Tambourine, and Guiro. ----[from a CR-78 ad courtesy of the archives at Hyperreal.
Aurora, Phil Collins on "In the Air Tonight", John Foxx on album Metamatic Album, Grace Hones on "La Vie En Rose", Gary Numan
[Let us know if you have any further additions to this list.]