Roland Instruments
Alpha-Juno 1
Alpha-Juno 2
Boss DR-55
Boss DR-110
Boss DR-660
CM-32L
CMU-800 CompuMusic
CMU-810
CR-68
CR-78
CSQ-100
CSQ-600
D-5
D-10
D-20
D-50
D-110
E-20
EM-101
GR-300
HS-10
JSQ Sequencers
Juno-6
Juno-60
Juno 106
Jupiter-4
Jupiter-6
Jupiter-8
JX-3P
JX-8P
JX-10 (Super JX)
MC-4
MC-8
MC-202 MicroComposer
MKS-7 Super Quartet
MKS-10 Planet-P
MKS-30 Planet-S
MKS-50
MKS-70 Super JX
MKS-80 Super Jupiter
MKS-100
MSQ-100 Sequencer
MSQ-700 Sequencer
MT-32
PG-200
PG-300
PG-800
Pro-Mars (MRS-2)
RS-09
RS-101
RS-202
RS-505 Paraphonic
S-5
S-10
S-330
S-550
Saturn 09 (SA-09)
SH-1
SH-2
SH-3
SH-5
SH-7
SH-09
SH-101
SH-1000
SH-2000
SPV-355
System 100
System 100m
System 700
TR-66
TB-303
TR-505
TR-606
TR-626
TR-707
TR-727
TR-808
TR-909
U-110
VP-330 Vocoder Plus



---


Jupiter-8
Manufacturer:
Roland

Model:
Jupiter-8

Production period:
1980-84

Quantity produced:
2,000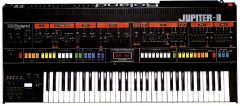 image courtesy of Kevin Lightner
The Jupiter-8 is an 8-voice polyphonic synthesizer with a 61-note (C-C) keyboard. Each voice consists of 2 VCOs. VCO1 is switchable between triangle, sawtooth, pulse, and square waves and can be switched between 4 octaves. VCO2 has the same options except the square wave is replaced by a noise generator switch and it has the same 4 octave range, with a switch to put it into "Low Frequency range". There is a simple mixer that balances the level of the two oscillators. There is a single slider to control the amount of cross-modulation of VCO-1 by VCO-2. Pulse Width Modulation (PWM) is set by a slider to set the level of modulation, and then a switch to select between LFO, ENV-1, or manual PWM. The Jupiter-8 also allows VCO1 to be synced to VCO2. Either or both VCOs can be modulated by either or both of the LFO and ENV1. The LFO features controls for rate, delay, and four waveforms, sine, saw, square, and random (sample-and-hold). LFO2 is triggered by a big white button next to the pitchbend/modulation lever. It is controlled by two switches and two sliders. The switches enable the modulation of the VCO and the VCF and the sliders control the amount of modulation for each destination.
The Jupiter-8 voice has two filters. In addition to its lowpass, resonant VCF it has an adjustable, non-resonant, and non-modulatable highpass filter. Whereas the highpass filter is set by a single slider, the lowpass VCF is much more flexible. The VCF has a switch to choose between 2-pole (12 dB/octave) and 4-pole (24 dB/octave), as well as controls for frequency level and resonance. The VCF can be modulated by one of the envelopes, the LFO, and keyboard tracking, with sliders adjusting the amount of modulation for each of these three sources.
Both envelopes (ENV1 and ENV2) are ADSR (Attack Decay Sustain Release). Key follow may be switched on and off for each envelope. ENV1 can be set to normal or negative polarity. ENV2 is hardwired to control the VCA, with a slider controlling the amount. The bender can affect pitch and/or filter cutoff, each of which has a slider for amount. VCO1 and VCO2 have separate on/off switches for bender modulation. There is also a "wide" bending option, which scales the bender to extreme ranges.
The Jupiter-8's memory can hold 64 patches and 8 "patch presets." Patch presets can store keyboard splits, along with the settings for the arpeggiator, voice assign mode, hold, portamento, as well as many of the modulation settings. The Jupiter-8 features keyboard split or layer. Split allows you to assign a patch to 4 voices above the split key and a patch to the 4 voices below it. Dual creates a keyboard with 4-voice polyphony, having two voices playing separate patches for each note. The balance between both patches in split or a dual mode is controlled by a slider. The arpeggiator is switchable between 1, 2, 3, and 4 octaves and four modes: up, down, up and down, or random. In split mode it works on only the lower split. There is a knob for portamento in the mod section (to the left of the keyboard). It can be switched to off, on and upper only. The Jupiter 8 offers Solo, Unison, Poly 1, and Poly 2 modes. Solo allows you to only play one voice at a time (ie. one 2-oscillator voice). Unison mode plays all of the voices, all of the time, dividing them as evenly as possible between all sounding notes. That means that if you played a single note, you would hear all 8 voices stacked together. Playing two notes would get 4 voices apiece, playing three notes would get 3 voices on the first two notes and 2 voices on the third, playing four notes would get 2 voices apiece, and so on. This offers the flexibility of having a polyphonic keyboard when you need it and the ability to get a fatter sound out of one or two notes. Poly 1 is the normal 8-voice polyphonic mode, and Poly 2 uses normal polyphonic allocation as long as you play legato. Once you lift your hand off the keyboard, any new notes will cut off the releases of all currently sounding notes. This is recommended for use with portamento. "Hold" is equivalent to the sustain pedal, but it is also a programmable parameter - that is, a sound in a Patch Preset can be permanently "held." Hold can be set for either or both sides of a split/layer. Modulation parameters include pitch bend sensitivity, VCO bend range (Wide, Normal, or Off for each of VCO1 and VCO2), aftertouch routing to either filter cutoff or vibrato (from LFO2), and aftertouch sensitivity.
The Jupiter-8 did not come with MIDI, although MIDI retrofit kits were made for it by third-party manufacturers. The Jupiter-8 features external input for control of the VCA and VCF and an input for syncing the arpeggiator to an external clock. The sync input can be set to control 8th notes, triplets, or sixteenth notes in the arpeggiator. There are two sets of 1/4" and balanced XLR outputs, one for each side of the split, or each patch in dual mode.
[information compiled from the archives at Hyperreal]
Damon Albarn of Blur, Aurora, 808 State, Alphaville, Banco de Gala, Barclay James Harvest, Steve Beresford of Frank Chickens, Katrina Bihari, Boris Blank of Yello, Blue Nile, Michael Boddicker, Dave Brock, Arthur Brown, Richard Burgess, The Cars, China Crisis, Vince Clarke, Dave Clayton, Cocteau Twins, Colourbox, Martin Cooper of OMD, Lol Creme, Miles Daves, Deacon Blue, Depeche Mode, Devo, Thomas Dolby, D.Ream, Spike Edney of Gueen, Electribe 101, Electronic Dream Planet, Guy Fletcher, John Foxx, Frank Chickens, Russ Gabriel, Steve Gray of Sky, The Grid, A Guy Called Gerald, Jan Hammer, Paul Hardcastle, HIA, Liam Howlett, Human League, Paul Humphreys, It Bites, J-M Jarre, Howard Jones, Journey, Charles Judge of Giorgio Moroder, Brian Kehew and Roger Manning of The Moog Cookbook, Mark Kelly of Marillion, Adrian Lee, Geddy Lee, Thomas Leer, Patrick Leonard, Mike Lindup of Level 42, Stephen Luscombe of Biancmange, Mick MacNeil of Simple Minds, Nick Magnus, Marillion, Meat Beat Manifesto, Ministry, Moby, Motiv8, Mulligan, Chris Newman, Steve Nieve, William Orbit, Orbital, OMC, Peter Oxendale, Alan Pasqua, Steve Porcaro, The Prodigy, Nick Rhodes of Duran Duran (including the random arpeggiating in the song "Rio"), Rhythmatic, Andy Richards, Pet Shop Boys, Ian Ritchie, The Rockets, Shriekback, Simple Minds, Robert Smith of The Cure, Belouis Some, Tim Souster, Startled Insects, Paula K. Stentz of Rumors of the Big Wave, Swing Out Sister, Switzerland, Talk Talk, Tangerine Dream, Tears for Fears, Rod Temperton for Michael Jackson (Thriller), Ultravox, ian Underwood, Tony Visconti, Jessica Zaccaro of See Spot (SF 79-80), Wang Chung, Kim and Rickie Wilde, Nick Wood, Jezz Woodroffe
[Let us know if you have any further additions to this list.]