Roland Instruments
Alpha-Juno 1
Alpha-Juno 2
Boss DR-55
Boss DR-110
Boss DR-660
CM-32L
CMU-800 CompuMusic
CMU-810
CR-68
CR-78
CSQ-100
CSQ-600
D-5
D-10
D-20
D-50
D-110
E-20
EM-101
GR-300
HS-10
JSQ Sequencers
Juno-6
Juno-60
Juno 106
Jupiter-4
Jupiter-6
Jupiter-8
JX-3P
JX-8P
JX-10 (Super JX)
MC-4
MC-8
MC-202 MicroComposer
MKS-7 Super Quartet
MKS-10 Planet-P
MKS-30 Planet-S
MKS-50
MKS-70 Super JX
MKS-80 Super Jupiter
MKS-100
MSQ-100 Sequencer
MSQ-700 Sequencer
MT-32
PG-200
PG-300
PG-800
Pro-Mars (MRS-2)
RS-09
RS-101
RS-202
RS-505 Paraphonic
S-5
S-10
S-330
S-550
Saturn 09 (SA-09)
SH-1
SH-2
SH-3
SH-5
SH-7
SH-09
SH-101
SH-1000
SH-2000
SPV-355
System 100
System 100m
System 700
TR-66
TB-303
TR-505
TR-606
TR-626
TR-707
TR-727
TR-808
TR-909
U-110
VP-330 Vocoder Plus



---


System 700
Manufacturer:
Roland

Model:
System 700

Production period:
1976-82

Quantity produced:




Also:
- another System 700, A System 700 ad courtesy of archives at Hyperreal,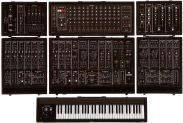 image courtesy of Kevin Lightner
"The complete system consists of the Main Console, the Keyboard Controller, and five optional blocks for a total of 47 modules. Available Modules include:

701A: 5-octave keyboard
702A,B,C,D,E: VCOs with four waveforms (sine, triangle, sawtooth, and rectangle), PWM, and range knobs (LO to 2'), and a pitch control (+-12 semi-tones)

A: has a PWM input and slider, and LFO1 mod input is hard-wired
B: has a hard-wired ADSR1 and LFO1 modulation inputs and sync
C: has a Sample & Hold and LFO1 input and sync
D: like A but with a socket instead of hard-wired mod inputs
E: like B&C without the hard-wired inputs

703B,C,D: 12dB VCFs
703E,F: 24dB VCFs
704A,B,C,D: VCAs
705A: Dual Envelopes
706A,B: LFOs
707A: Envelope Follower
708A: Noise and Ring Modulators
709A,B: Sample & Hold Modules
710A,B: Multiples
711A: Output module (Stereo VUs, a six-position test-tone, a Phase Shifter, a Spring Reverb, and voltage-controlled Panning)
712A: CV Processor
713A: Gate Delay
714B: Frequency-to-Voltage Converter, Envelope Follower
715A: Multimode Filter, Mixer
716A: Mixer
717A: Analog Sequencer
718A: Power Supply
720B: 2-channel Phase Shifter
721B: 2-channel Audio Delay
723A: Analog Switch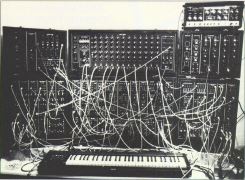 A Patched System 700
image courtesy of archives at Hyperreal
Although it was possible to order custom configurations, most System 700s were sold in the following configuration blocks:

"Block 1: The Main Console contains all the basic modules necessary in a professional system for the synthesizing of sound and can be used alone with the Keyboard Controller as a complete synthesizer in itself. On the Main Console, most common connections are made internally without the use of patch cord connections for greater freedom of patching. Modules in the Main Console include: (3) VCOs, (2) VCFs, (2) VCAs, (2) LFOs, (2)ADSR envelope generators, Noise source, Ring Modulator, Voltage Processor, S/H (sample-and-hold), Envelope Follower, "Integrater" (Lag Processor), Mixer, 2 X 5 multiples, Headphone Monitor Module, and an Output Module, which includes Stereo VUs, a six-position test-tone, a Phase Shifter, a Spring Reverb, and voltage controlled Panning
"Block 2: The 5 octave, 61-key (C-C), two-voice Keyboard Controller has Portamento and Pitchbend controls.
"Optional blocks can be chosen and arranged according to the particular needs of each studio. All of the modules in the optional blocks are interchangeable, thus the numbers and types of modules can also be changed to suit the studio. The main modules of the optional blocks are:
Block 3 (Sequencer): a 3 X 12 step sequencer, Pulse Shaper, Clock Oscillator, and Series and Parallel output sections
Block 4 (VCO Bank): 6 VCOs, a dual ADSR envelope generator, LFO, Sample and Hold, 2 X 5 Multiples, and a small Mixer
Block 5 (VCF/VCA Bank): (2) VCFs, (3) VCAs, (2) dual ADSR envelope generators, 2 X 5 Multiples, and a Gate Delay
Block 6 (Interface/Mixer): a Frequency-to-Voltage Converter Interface, a VCA, 9-channel Audio Mixer, and a Fixed Filter Bank
Block 7 (Phase Shifter/Audio Delay): a two-channel Phase Shifter and a two-channel Audio Delay, four input Analog Switch, and a very flexible multiple (1X12, 1X4 /1X8, or 3X4)
[from Roland's System 700 promotional ad]
Also available was a "Laboratory System 700" consisting of (3) VCOs, noise and ring mod, VCF, VCA, mixer, LFO, Sample & Hold, and a Dual Envelope Generator.
Richard Barbieri, Jeff 'Skunk' Baxter, Matthias Becker, Vince Clarke, Depeche Mode, EDP of Adrian Wagner and Chris Huggett, Daniel Miller, Guido Mylemans, Klaus Netzle, Nitzer Ebb, Stefan Reinert, Martin Rushent of Human League, Tim Simenon, Tomita, Visage, Hans Zimmer
[Let us know if you have any further additions to this list.]