Roland Instruments
Alpha-Juno 1
Alpha-Juno 2
Boss DR-55
Boss DR-110
Boss DR-660
CM-32L
CMU-800 CompuMusic
CMU-810
CR-68
CR-78
CSQ-100
CSQ-600
D-5
D-10
D-20
D-50
D-110
E-20
EM-101
GR-300
HS-10
JSQ Sequencers
Juno-6
Juno-60
Juno 106
Jupiter-4
Jupiter-6
Jupiter-8
JX-3P
JX-8P
JX-10 (Super JX)
MC-4
MC-8
MC-202 MicroComposer
MKS-7 Super Quartet
MKS-10 Planet-P
MKS-30 Planet-S
MKS-50
MKS-70 Super JX
MKS-80 Super Jupiter
MKS-100
MSQ-100 Sequencer
MSQ-700 Sequencer
MT-32
PG-200
PG-300
PG-800
Pro-Mars (MRS-2)
RS-09
RS-101
RS-202
RS-505 Paraphonic
S-5
S-10
S-330
S-550
Saturn 09 (SA-09)
SH-1
SH-2
SH-3
SH-5
SH-7
SH-09
SH-101
SH-1000
SH-2000
SPV-355
System 100
System 100m
System 700
TR-66
TB-303
TR-505
TR-606
TR-626
TR-707
TR-727
TR-808
TR-909
U-110
VP-330 Vocoder Plus



---


MC-202 MicroComposer
Manufacturer:
Roland

Model:
MC-202 MicroComposer

Production period:
1983-85

Quantity produced: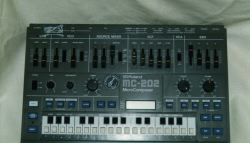 owner: Daniele Marziali
The MC202 is a sequencer and simple monophonic synth with 32 buttons arranged like a small keyboard (F-C).
The monosynth is similar to the SH-101. The VCO is based around the ever-so-popular Curtis 3340 chip and features a slider switch for octave (2', 4', 8', 16'), a slider for pulse width, and one for modulation (LFO) amount. The VCO outputs a square/pulse wave, a sawtooth wave, and a sub-oscillator which are mixed together in the "Source Mixer" section. The sub-oscillator is switchable between a square wave 1 octave down, a square wave 2 octaves down, and a pulse wave 3 octaves down. There are knobs which control fine tune and portamento. The VCF section has a slider for cutoff frequency and resonance. There is a slider for each of its control sources: envelope, LFO, and keyboard. The VCA can be controlled by a simple gate or the Envelope. The envelope is an ADSR with a slider for each stage.
The sequencer is quite powerful for its time. The MC-202 features a large (for the time) LCD display, upon which all the sequencing editing is displayed. The two available sequences can be played simultaneously using the CV/gate outputs to control another sequencer. The sequences can have a combined total of 2729 events. Sequences can be entered in real time via the pushbutton keyboard or via another keyboard using the CV/gate inputs. This feature has a negative side, though. Since all incoming CV/gate signals are routed through the microprocessor, there is a bit of a lag when the MC-202 is played by a another keyboard or a MIDI-to-CV device. The Sequences can also be programmed using step-time, setting a separate pitch and duration for each note. Also programmable in a sequence is accent and portamento. Accent works the same as in the TB-303, with an accent amount knob that can be adjusted in real time as the sequence is playing. The speed of the sequence is also controlled by a knob.
The back panel has a sync input and two sync outputs, a tape interface for saving and loading sequences, CV/gate inputs and two CV/gate outputs (one for each sequence), a headphone jack, and a main output jack.
The MC-202 came out at a time when the synthesizer market was just starting to impliment MIDI. After MIDI became an accepted standard, sequencers such as the MC-202, using the old-style CV/gate interface, quickly lost popularity and died away.
[from The A-Z of Analogue Synthesizers, by Peter Forrest, published by Susurreal Publishing, Devon, England, copyright 1994 Peter Forrest]
808 State, Atomic Babies, Autechre, Bizarre Inc, Coldcut, Dreadzone, Rusty Egan, Future Sound of London, Laurent Garnier, A Guy Called Gerald, Groove Corporation, Simon Harris, Juno Reactor, KMFDM, Michael Law, LFO, Loaded, Mulligan, Rhythmatic, Sabres of Paradise, Severed Heads, Insom Shalom, Tim Simenon, Switzerland, Peter Vetesse Josh Wink - used it to create that "tweeking" sound in the acid classic "Higher State of Consciousness",
[Let us know if you have any further additions to this list.]